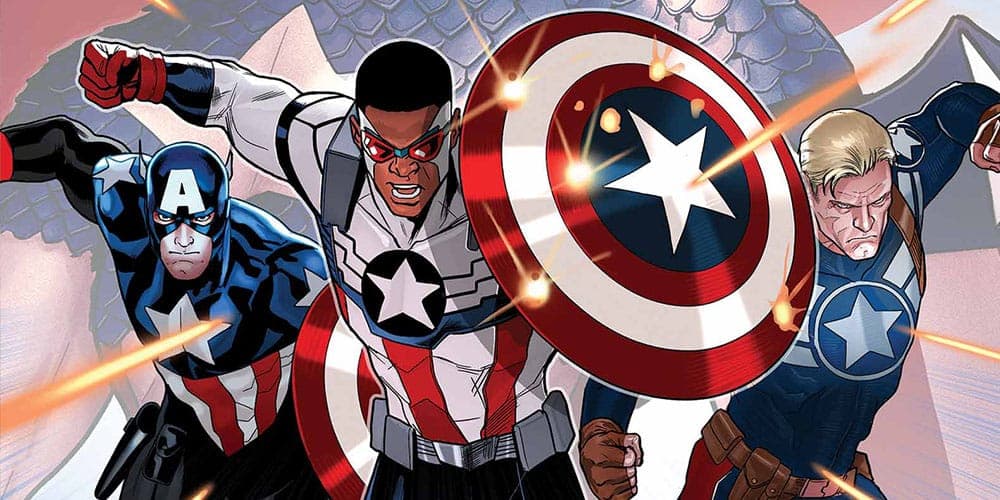 I recommend starting Captain America comics either with the fantastic current Cap storyline by Nick Spender, or a self-contained book with classic Steve Rogers.
Modern Captain America
Steve Rogers has been aged, and has passed on the mantle of Captain America to his loyal friend: Sam Wilson, The Falcon ( played by Anthony Mackie in the movies ). This story, with Sam Wilson and Steve Rogers, will lead into Marvel's next big event, Secret Empire, so this is a great place to jump into Marvel comics. Feel free to skip the first book, since all the rest are written by a different writer, so the second book is a great starting point as well.
All-New Captain America, Captain America: Sam Wilson, and Captain America: Steve Rogers in paperback reading order:
Modern books with Classic Cap
However, like Nick Fury said in the Avengers movie, 'people might just need a little old fashioned'. Below are three totally independent stories with very classic Steve Rogers Captain America stories.
Captain America: White - About Steve and Bucky's first mission together in World War II, told from by Steve just after being unfrozen.
Captain America: Man Out of Time - Cap after being unfrozen in the 21st century, trying to deal with the change.
Avengers: Four - Set during the first real Avengers shakeup, Steve has to get his new Avengers, Quicksilver, Hawkeye, and Scarlet Witch, to become a real team.