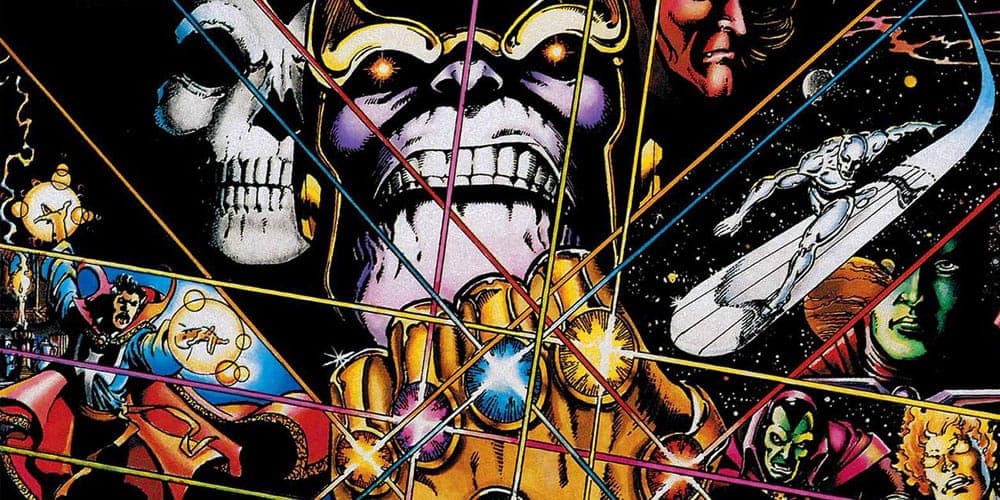 Events are some of the coolest things in comics, but are also confusing to new readers. Comics events are like Avengers movies. Tons of characters, all with their own stories, come together for something bigger than anything they could do on their own. The event stories stand on their own, but also come with a universe of smaller stories which closely relate to them. The original Civil War event is just a 7 issue story, but there are over 100 other issues which fill in individual smaller stories. The main series is essential to the event, but most "tie-in" comic issues aren't.
You can find a complete list of all Marvel crossover events on Wikipedia, but that can be daunting. If you don't know where to start here's a few reading paths I would recommend the modern: Civil War, the original or modern Secret Wars, or the older classic Infinity Saga:
The Infinity Saga: Thanos may be the biggest baddie in the Marvel universe, and his story is no less grand. Thanos Quest is only two issues and is a great introduction to both the Infinity Stones and the omniversal powers in the Marvel universe.
Everything in order:
1982 - Contest of Champions - This is marvel's first event! But I wouldn't recommend it, as it's not very exciting.
1984 - Secret Wars - This is my #1 recommended classic event, just ahead of the Infinity Gauntlet. The story was surprisingly unique, with lots of great characters interacting in interesting ways.
1984 - Secret Wars II - This is the much more ridiculous sequel to Secret Wars. Think of it like that Star Trek movie where they go back to the 80s to save some Whales, but for Marvel. Feel free to skip it, but it's still very funny.
1990 - Thanos Quest - Brilliant chapter of Infinity Saga
1991 - The Infinity Gauntlet - Fantastic chapter of Infinity Saga
1992 - Infinity War - Alright chapter of Infinity Saga
1993 - Infinity Crusade - Interesting chapter of Infinity Saga
1999 - Contest of Champions II - An improved sequel to Marvel's first event, but still not good enough to really recommend.
2000 - Maximum Security - The best part of this event is that it happened, and future comics can say "Hey, remember that time aliens turned Earth into a giant space prison?"
2002 - Infinity Abyss - Alright chapter of Infinity Saga
2003 - The End - Alright chapter of Infinity Saga
2006 - House of M - This is the biggest event in the Mutant storyline, and a fantastic story all around. Highly recommend it.
2006 - Civil War - Civil War is the biggest dividing point in Marvel history. You can read my recommendations here.
2006 - Planet Hulk and World War Hulk - Absolutely amazing hulk-focused story with space and action and everything you want from a Hulk book.
2008 - Secret Invasion - If you're looking for big-impact stories, read this.
2010 - Siege - Good conclusion to the events set forward in Secret Invasion. A heroes-as-heroes story that doesn't drag.
2010 - Shadowland - Daredevil event I enjoyed.
2010 - Chaos War - One of my personal favorites. Introduced me to Hercules and Amadeus Cho, who I now love.
2011 - Fear Itself - I did not enjoy this event.
2012 - Avengers vs. X-Men - Very important event and good.
2013 - Infinity - Awesome, but mostly just a chapter of Hickman's Avengers / New Avengers, which are lead-ins for the modern Secret Wars.
2013 - Age of Ultron - Not important, and a little too similar to Terminator for me.
2013 - Original Sin - Not great.
2014 - AXIS - Not good, but a few interesting tie-ins like Superior Iron Man, Axis: Carnage, and Axis: Hobgoblin.
2015 - Secret Wars - Absolutely fantastic, and tons of really fun tie-ins.
2016 - Civil War II - Good series with absolutely beautiful art.
2017 - Secret Empire - Amazing event, probably my favorite behind the modern Secret Wars.
What this list does not include, is the cosmic-events, which are better summarized by this brilliant graphic.