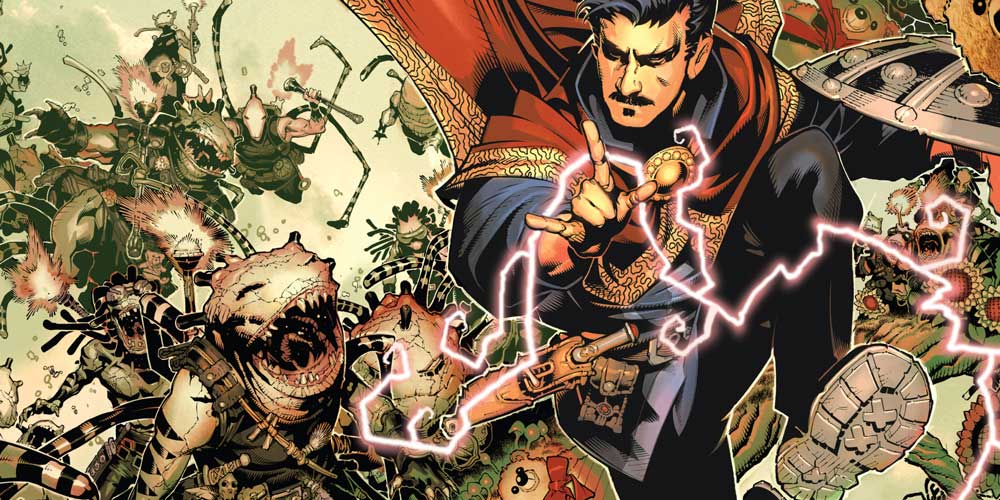 Doctor Strange was first introduced in the 1963 Strange Tales #110. Those original books are really great, especially the incredible Ditko art, but older comics are hard for new readers to get into. Marvel has a new publishing line for classic comics called 'Epic Collection' and they are an incredible deal. You can read the first 35 issues of Doctor Strange in Doctor Strange Epic Collection: Master of the Mystic Arts.
Doctor Strange (2015)
This series is a great starting point for new readers. It's modern, funny, beautifully drawn, and I really enjoyed it. A great thing about this series is that it was created by a number of writers and artists while still maintaining a great cast and continuous narrative. I often split series on this site by writer, because that's when drastic changes happen and stories are 'reset' in a lot of ways. New readers can experience are a lot of great writing and art styles here without losing the thread established in the first book.
Doctor Strange (2015) in paperback reading order:
Doctor Strange (2018) by Mark Waid
The current series of Doctor Strange begins as a spacefaring adventure and has been a lot of fun. The biggest downside for new readers is just that there is less to read. This is a great way of getting quickly caught up with current Doctor Strange though.
Doctor Strange by Mark Waid, so far, in paperback reading order:
A great self-contained story
The other option is something self-contained, a single book telling a single story. Strange Origin is a retelling of Stephen's origin story, and you will recognize similar elements from the movie. The Oath is a great book if you just want a well-told Doctor Strange adventure.