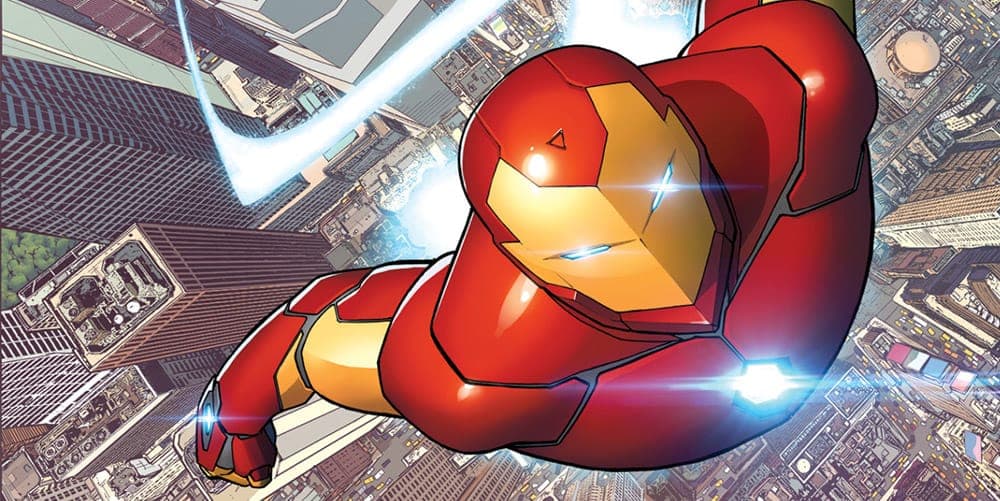 Iron Man was first introduced in the 1963 Tales of Suspense #39, and his early issues are collected in the Masterworks collections below. As a new reader though, I'd recommend something more modern. My personal recommendation would be Invincible Iron Man (2016) starring Ironheart, near the end of this article, but I'll keep this in chronological order.
Marvel Masterworks: The Invincible Iron Man books 1-3, collecting Tales of Suspense #39-85:
Extremis (2005) & Invincible Iron Man (2008)
If you're looking for books that heavily inspired the Iron Man films, you will find them in the modern classics Extremis by Warren Ellis and Invincible Iron Man by Matt Fraction. Both are great places to start reading.
The first book is Iron Man: Extremis, and all of Matt Fraction's Invincible Iron Man collected in two hardcovers:
Invincible Iron Man (2015): Reboot
The most recent starting point with Tony Stark is Invincible Iron Man (2015) series by Brian Michael Bendis. International Iron Man was published alongside this series and deals with Tony trying to learn more about his past, but the story is completely independent from Invincible Iron Man.
Invincible Iron Man (2015) and International Iron Man in paperback reading order:
Invincible Iron Man (2016): Ironheart & Infamous Iron Man (2016)
The current Iron Man series, Invincible Iron Man (2016) features a brand new character who has become wildly popular, Riri Williams. You will still find Stark personality in this series, but the focus is on Riri, 15-year-old black woman and engineering student from Chicago. This series is a perfect starting point with a completely fresh character, but also picks up a lot of threads from the previous series.
Infamous Iron Man, which takes place at the same time as Ironheart, features Doctor Doom looking to keep the Iron Man legacy alive. This is more of a successor to the International Iron Man series and the events of Secret Wars