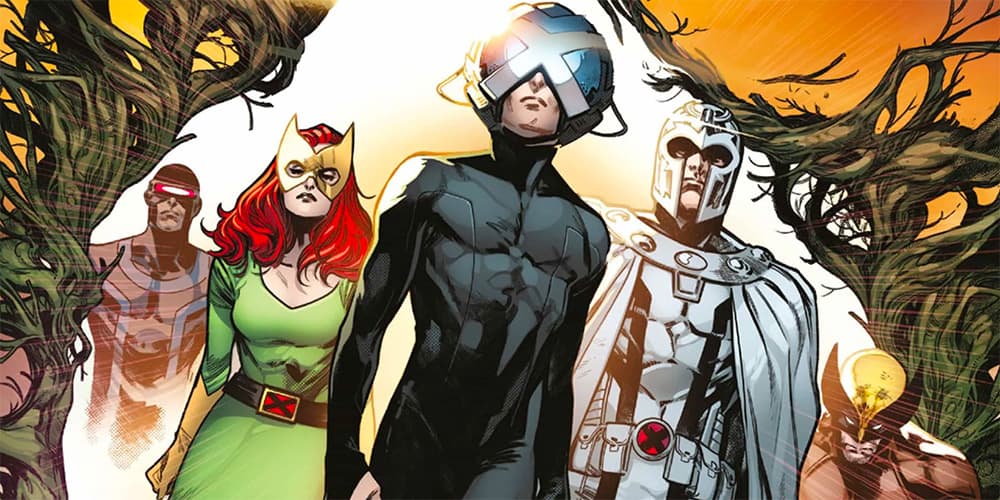 There are two fantastic starting spots for readers looking to join the modern Krakoa era with Hickman's X-Men or catch up quickly on the past with Grand Design.
X-Men: Grand Design
New readers often think of comic book series as a TV show or a movie franchise and want to start at the very beginning. However, many of these stories have been told for over 50 years, so they are more like Doctor Who or James Bond, franchises with long histories interspersed with easy starting points and well-defined arcs. Like those, most comic books change writers and artists and go through eras.
If you want to start at the "beginning" there is a really interesting series called "Grand Design" which seeks to retell the story of the X-Men from the very beginning in an incredibly compact way. But if you want to join the X-Men universe as it exists today, there is no better option than the Krakoa era currently defining this generation of comics.
X-Men: Grand Design seeks to compress the publication history of the X-Men, along with some smoothing. These books are DENSE, and every page covers so much, but still great storytelling and not just an encyclopedia. The first volume covers the X-Men from 1963 to 1975, and the second from 1975 to 1984.
Hickman's X-Men
House of X / Powers of X
Dawn of X: Part 1
Dawn of X: Part 2
Reign of X: Part 1
The first major crossover of Hickman's new X-Men, X of Swords, exceeded my expectations. Delving deep into the world of Otherworld from the two Excalibur books above, but does not require having read them.
Again, all of these series revolve around the spoke of the main X-Men after X of Swords. Continue the ones you liked, skip the ones you didn't.
Reign of X: Part 2
The second major crossover, the Hellfire Gala once again radically reshaping the world of the X-Men.
ASINP 1302931156 Hellfire Gala ASINP 130292723X X-Men (2021) #1-6
As I write today, many of the books below won't be shipped until 2022, and comic issues below are still being released.