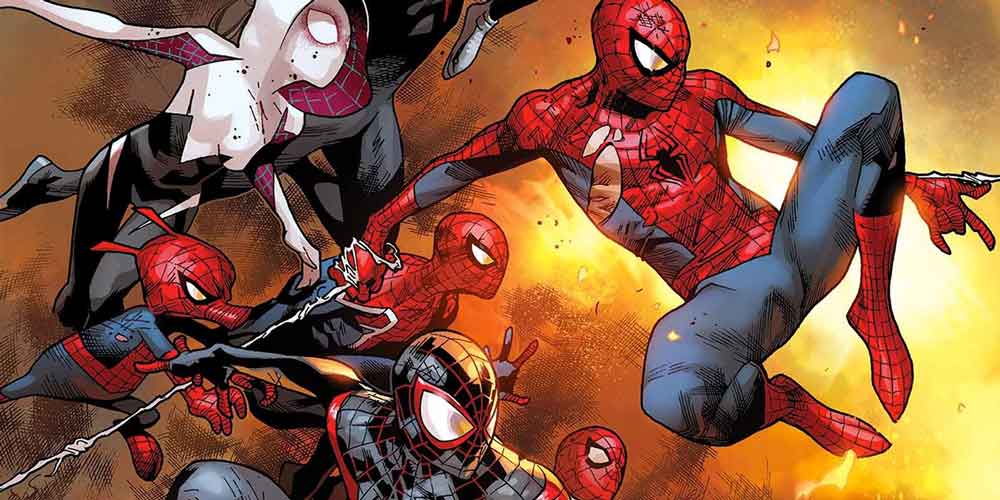 The new movie Into The Spider-Verse looks absolutely amazing, and the comic that shares the same name make one of the best intros into comics you could want. The original comic Spider-Verse introduces to a lot of characters, writers have been collected in one big book.
Character Guides
Comics set just before Spider-Verse
For anyone who wants a little more lead-in, I've included some lead-ins below, as well as some ideas for series after Spider-Verse. The three books below are all set before Spider-Verse begins, but are not necessary to enjoy the story.
After Spider-Verse
I have a few articles that have starting points after Spider-Verse, including Spider-Woman and Spider-Gwen. In addition, the series below, Web Warriors of the Spider-Verse, continues directly after the events of Spider-Verse with many of the same characters and settings:
Four years later, the sequel Spider-Geddon was published. This was a fun series, especially for fans of Miles Morales who took lead, but not as essential reading as the original. The main series is joined by a prequel, Edge of Spider-Geddon which continued some of the stories from the original Edge which didn't get their own series, and a tie-in collection Covert Ops. These are good for readers looking for something very, very similar to the original Spider-Verse, but not something I would normally recommend to new readers.
Not Spider-Verse!
A few years later, another event, Secret-Wars included a tie-in very confusingly also called Spider-Verse, which I'm sure has confused a lot of new readers. It's a fun tie-in to that event, but it is not the original Spider-Verse story, so be careful not to get them mixed up.