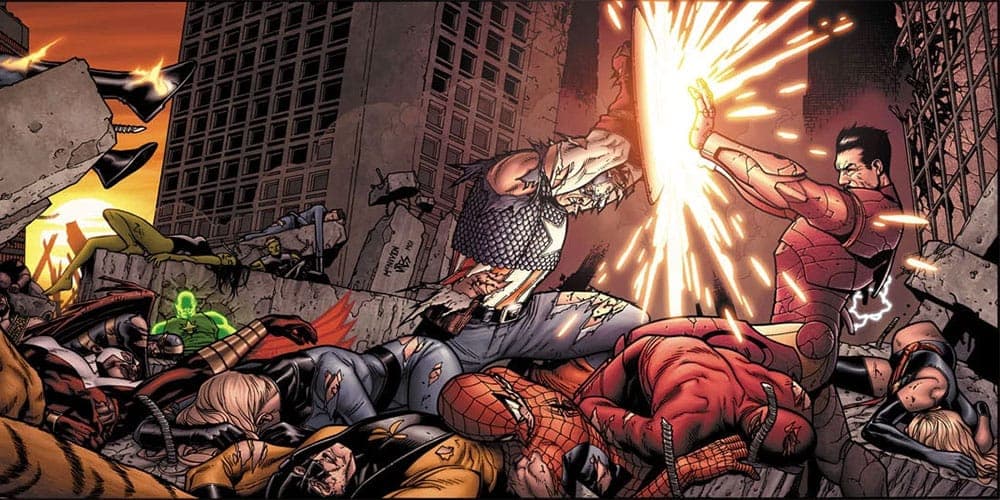 Civil War is easily one of the most famous, impactful comic events ever written. The way " comics events" are usually written is that there's one main series, and then lots of "tie-in" series that take place at the same time, but aren't necessary. This means for Civil War, you can read as few as 7 issues, or as many as 140. Here's everything you need to know about Civil War to start reading:
But first, not that Civil War: The American Civil War of the 1800s is not related to this story, except that the heroes of this story are turned against one another, in internal conflict.
Okay, so what is a comic event? An 'event' is like the comic equivalent of the Avengers movie. It involves a lot of characters that have their own stories. You can watch it by itself, but there are also a TON of things you can watch which give it context, like other movies or even TV shows. But you don't need to watch them all, just like you don't need to read every issue in a comic event.
How do I read them? The easiest and cheapest way is Marvel Unlimited, a service like Netflix for comics, where you can read anything over 6 months old for $10 a month. This great list has every issue on the service. However, Marvel Unlimited does have problems, and some people just want to hold some beautifully printed books in their hand, lend them to friends, or get frustrated with the Marvel Unlimited web reader. In that case, I'll be linking to printed copies of all the issues below.
Here are the biggest parts of the Civil War event:
Read the 7 core issues of 'Civil War'
If you read one other thing, make it 'Road to Civil War'
If you want to flush out the main Civil War event, add the tie-ins from the most important characters.
Or add the fan-favorite series: Frontline
If you want even more, add any tie-ins that call to you.
The complete Civil War list includes 98 issues, and there's this insanely awesome, hardcover box set. Here are descriptions of some of the other tie-ins: